Marathoning Wallace Huo's TV Series
Hello everyone! I hope you are enjoying the cooler temperatures. I've been quite zoomed out of recent releases in dramaland since nothing really catches my attention. Many of you recommended that I check out Zhao Liying's new period drama called
Cuo Dian Yuan Yang
. I will definitely check it out since the story is based on one of the very first Chinese novels I read. However, I just wish the main actor was bit more...charismatic. LOL. He isn't exactly how I pictured him when I read the novel.
Instead of watching new drama series, I've actually been giving older dramas I checked out years ago but somehow never fully watched them in depth another glimpse. It also happens that Wallace Huo starred in these dramas I've been watching lately. This coincidence is the result of my mom who has been watching Rouge Snow and Chinese Paladin 3 dubbed in Cantonese on my local Chinese satellite channel. While she was watching these two series, I suddenly got the urge to rewatch the 2009 remake of Twig of Plum Blossom too. So right now I'm scanning through THREE Wallace Huo's series intermittently.
A Twig of Plum Blossom 新一剪梅 (2009)
Brief Synopsis
:
The fiery Shen Xinci (Lu Yi), along with her ailing father, run away from her psychopathic fiancee, Liang Yongchang (Chen Sicheng), after discovering his true colors. During her flee, she meets Zhao Shijun (Wallace Huo), who pities her and gives her some money to care for her father. After her father's death, Xinci decides to find Shijun and repay for his kindness.
In the meantime, Zhao Shijun is forced to marry Mayor Wan's kind and sickly daughter, Wang Qiuling, in exchange for rights to the Qing Rivers and to maintain peace between two rivaling towns, Shahe Town and Wan Jia Village. On the way back to her new home Qiuling, falls sick again but is rescued by a mysterious doctor, Liang Yongchang. He tells her that she can recover from her illness, but she won't be able to give birth to a child in the future. Desperate to be a dutiful wife and carry on her husbind's line, Qiu Ling takes Yongchang's advice to find a surrogate mother to bear her husband's child without the intrusion of a concubine in the marriage. She drugs her husband to sleep with another girl. What Liang Yong Chang didn't count on was that the other girl turns out to be his runaway fiancee, Shen Xinci. So now Yong Chang is out to seek revenge on Zhao Shijun and everyone in his way...
Entire series is available to watch on
YouTube
Thoughts:
For Wallace Huo's fans who haven't seen this drama and would like to see a bare-chested Wallace Huo, look no further! This series contain quite a few scenes with a shirtless Wallace Huo. I don't think I've ever seen a period drama that requires the male lead to show skin so many times. LOL.The bed scenes filmed for OTP is also quite steamy for a mainland Chinese TV series. Too bad they cut out most of the shots shown in the trailer from the main drama.
This series is a compilation of many cookie-cutter twisted plot devices I've seen in Chinese melodrama. It contains complicated polygonal love relationships, surrogate mothering, drug rape, suicide, obsessive psychopath, revenge, ruthless ambition, multigenerational conflicts.The one thing ostentatiously absent is the typical infighting between women we see so much in court dramas nowadays. All the females in this story get along darn well with minimum display of jealousy. It's the men who get a little immature. LOL.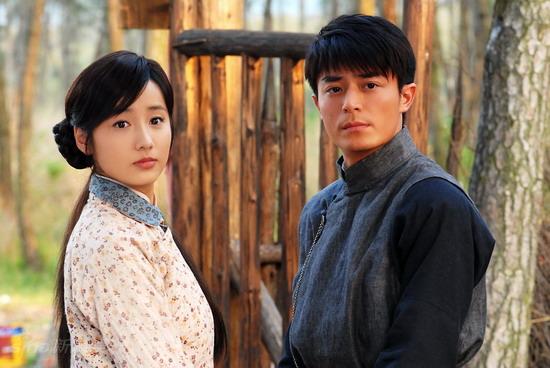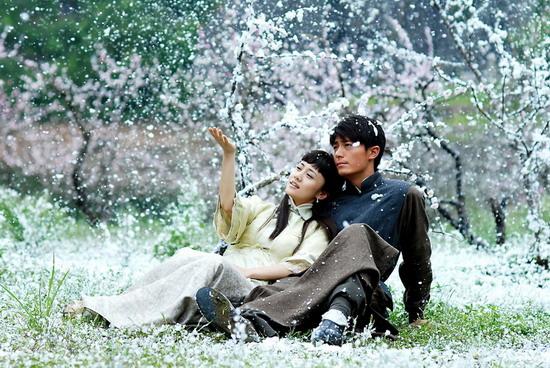 This adaptation is actually the second remake of a very popular 1980s Taiwanese series. The first remake was actually produced in 2000 and starred by Jiang Qinqin 蒋勤勤, Zhao Wenzhuo 赵文卓, and Wang Yan 王艳. I watched both the 1980s original and 2000 remake in a passing, but was never really fond of any particular characters. All the "good" characters were too bland for me while the ultimate villain went overboard in his villainous ways that just gave me the impression he was just total maniac. There are also very dramatic differences in the storyline between the older versions and this remake because the fate of many characters changed .
Due to the casting of Wallace Huo as the righteous and self-sacrificing Zhao Shijun, I took notice of this remake. As I'm quite fond of many character portrayals by Wallace Huo, I wanted Wallace to spice up this boring character and give a refreshing interpretation of the "goody two shoes" Zhao Shijun. Though I definitely like Wallace's Zhao Shijun better (cuz I'm biased), I still found the Zhao Shijun character lacking the "hmph" or "force" I found in captivating characters as Mo Shaoqian in Sealed with a Kiss and Xu Changqing in Chinese Paladin 3. Wallace just wasn't given enough screentime and material to expand and I felt his Zhao Shijun was even more underdeveloped than older versions. He tried hard to make his character more fun and less rigid. In spite of some very jarring plot-holes, head-scratching incongruities, bad acting, and underdeveloped OTP, I still enjoyed this series more than what's being offered on mainland Chinese TV right now.
Main Theme Song:
Trailer:
2000 Version of Twig of Plum Blossom
Rouge Snow/ Romantic Red Rouge 胭脂雪(2008)
Synopsis:
After the collapse of her father's family business, Wen Yuhe is married against her wishes into the wealthy Gu family. She tries to escape on her wedding night only to have her plans foiled by Gu family's steward, Xia Yunkai (Wallace Huo). Thus begins Yuhe's married life to a rebellious husband, Gu Xiaotang (Yu Xiaowei), harrowing living situation under the Gu household, and her confused relationship with Xia Yunkai who has his own agenda for serving the Gu household.(credit to Taiseng)
Thoughts:
I think one word can sum up the overall theme of this series: oppression. It depicts the harsh social conditions that traditional Chinese women had to endure in feudal Chinese society, particularly in regards to widow chastity. The plot is certainly very dramatic and filled with crying women (although not to the extent of many Qiong Yao series). In sum, the story evolves around the matriarch of a wealthy family oppressing all the younger women around her, and in the end, you're supposed to somewhat sympathize with her because she was also a victim of feudal values. Does the plot sound familiar to you? Rouge Snow was actually written by Yu Zheng and the first collaboration between Wallace Huo and this infamous producer. The second time is the upcoming remake of Louis Cha's novel, Swordmen.
To be honest, I usually tend to avoid series of this genre because they can get extremely frustrating to watch and you just want to throttle those weak female characters and meek bratty men! I scanned through a few episodes some years ago because I was attracted to the pretty poster with Wallace Huo and Fan Bingbing. I only started to watched this series again because my mom was watching it on TV and I was once again drawn to the pretty traditional Chinese music score they used to spice up the melodrama. It also helps that this drama featured two male leads looking very handsome in the traditional long Chinese robe: Wallace Huo and Yu Xiaowei. Although Fan Bingbing is definitely a force to be reckon with in the Chinese entertainment industry today and she is also a very gorgeous lady, I never grew to like her TV series. So if you are currently bored out of your mind and need something eye candies on TV to distract you, maybe you can give this series a try if you are able to withstand tragedies and heartbreak. Fortunately, the story ends quite "happily" for Wallace Huo's character.
Chinese Paladin 3 仙剑奇侠传 3 & Royal Swordmen 天下第一
I think enough has already been said about Chinese Paladin 3. Wallace Huo's Xu Changqing or better known as White Tofu turned me into a semi-fan. I absolutely adore White Tofu and can rewatch his scenes without feeling bored. Though I always knew of Wallace's existence in the Taiwanese idol drama industry prior to this breakthrough performance, I never give him much of a second thought as an actor. But man, he was such a loveable character as the straight-faced and gullible Daoist monk. I actually like his Xu Changqing's performance more than his other acclaimed portrayal as the cold and quiet Guihai Yidao in the wuxia series Royal Swordmen.
MV I like from Royal Swordmen
When Royal Swordmen first aired, Wallace Huo and Michelle Yip pairing outshined the OTP. They are still remembered fondly till this day.
HAVE MOST OF YOU ALREADY WATCHED THE AFORMENTIONED TV SERIES WHEN THEY FIRST CAME OUT?